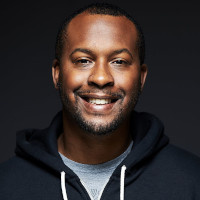 Brian Douglas
Developer Advocate at GitHub
Brian Douglas is a member of the Developer Relations team at GitHub where he works on increasing use of the GitHub and its API by fostering a community of early adopters through the developer programs. In the past he's lead Developer Advocacy and Front-end development at Netlify, where he leveraged his knowledge of React and JavaScript to create a deep well of technical content, spearheading efforts towards a public GraphQL API while delivering talks and workshops around the world.
Brian has a passion for open source and loves mentoring new contributors through Open Sauced, a platform for finding your next open source contribution.
Sessions
TheJam.dev is a 2-day virtual conference focused on building real-world applications using the Jamstack.
Brian Douglas walks through how you can leverage action packed workflows to supercharge your repos on GitHub by building them with containers to run arbitrary code, run CI, and even automate portions of your developer workflow.
Don't miss Full Stack DevRel with Nnenna Ndukwe coming up on Dec 14